Media, Original Articles, Recordings and Archives

The following is an archive of original articles, TV and Radio interviews on strategic investment, market and technology intelligence from Emerging Markets Online, including excerpts from Drop In Fuels 2020, Algae 2020 & Biodiesel 2020 studies.


What's New?

Drop-In Fuels update: on April 17, 2017, Emerging Markets Online gave a presentation titled Whats Next for Low Carbon Drop-In Fuels in the Short, Medium and Long Term? via Biofuels Digest's March Madness series. Here is a preview of the presentation, including a few forecasts to be published in the forthcoming Drop-In Fuels 2020 study this June: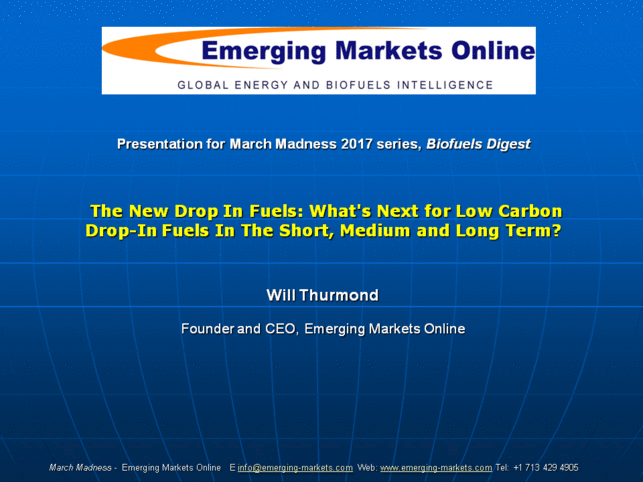 Renewable Diesel update: In March 2017, Emerging Markets Online's founder Will Thurmond gave a presentation titled What's Next for Smaller-Scale Players in Renewable Diesel and Biojet? and chaired a panel on Next Generation Biofuels at the Advanced Biofuels Leadership Conference in Washington, DC Here are a few slides from the presentation:





Biojet and Aviation Fuels update: in February, 2017 Emerging Markets Online provided analysis and commentary on the Terratech radio show with a 2017 renewable fuels update and outlook in Stuff You Can Make From BioJet Fuel.


Bio-Based Plastics update: in March 2017 Emerging Markets Online delivered a presentation titled An Introduction to Emerging Market Opportunities in Bio-Based Plastics and Plant Bottles via webinar on the March Madness series by Biofuels Digest. Here is a summary and some slides from the presentation:



Algae 2020 author provides a 2017 algae industry update and outlook on the TerraTech radio show New Foods: How To Make Them Faster, Better Cheaper. (Jan 2017).

Drop-In Fuels 2020 author provides a detailed presentation and outlook in Boom-Boom: A Multi-Slide Guide to Renewable Diesel's Growth and Horizons. (Biofuels Digest, March 2016).




---
The Vault: A Decade of Archived Selections from 2007-2017

Original articles by Emerging Markets Online, columns, TV and radio recordings, and webinar presentation links.

In the news, articles featuring Emerging Markets Online O

Selected original articles by Emerging Markets Online: Original
---

Customer Service

Phone: 713 429 4905
Email: info@emerging-markets.com