Industry presentations, TV, radio, and media interviews on strategic investment, market and technology intelligence, including excerpts from Renewable Diesel 2030 & SAF 2030, Vol 2, Algae 2020 & Biodiesel 2020 studies.

June, 2021:  Renewable Diesel and Sustainable Aviation Webinar
This month will feature Renewable Diesel & SAF 2030 Author and Emerging Markets Online President Will Thurmond presenting at the Biofuels Digest's weekly interactive networking program DigestConnect. 
On DigestConnect we're joined by Will Thurmond, author of Renewable Diesel & Sustainable Aviation Fuels (SAF) 2030 highlighting new development opportunities for aviation fuels, feedstock availability, future options for using non-FOG based feedstocks from low-carbon low-cost waste sources (from trees, municipal solid waste, agricultural waste, food waste, farm waste); and advanced technologies for turning bio-crude, and syncrude into renewable diesel and SAF (sustainable aviation) fuels.
There's nothing hotter right now than renewable diesel and SAF – what are the pathways, projects, who are the players, what are the business models, are there alternative feedstocks?
ps Executive summary video of RD & SAF 2030 via Digest Connect:
 

To access this critical business development study, featuring case studies of producers, technologies, and feedstocks, download the following prospectus and table of contents for Renewable Diesel & SAF 2030 
---
Emerging Markets CEO and RD & SAF 2030 Author Speaks at Harvard University's Zofnass Program of Sustainable Infrastructure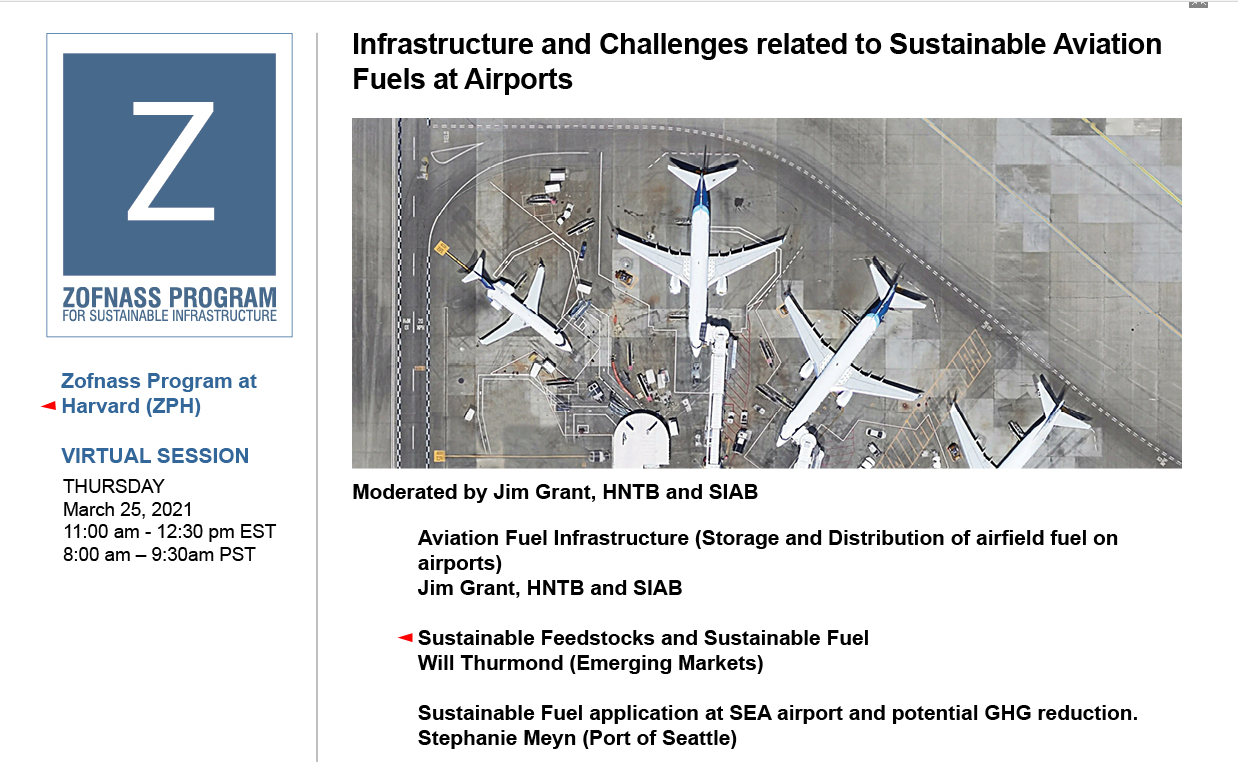 In March, 2021, Emerging Markets Online's CEO Will Thurmond spoke at Harvard University's Zofnass Program for Sustainable Infrastructure, and presented a summary of findings on sustainable aviation fuels markets, projects, economics, feedstocks, technologies, and forecasts.
The forum also featured HNTB, a leading architecture and engineering firm moderating the session, and an update from Seattle, Washington's airport, highlighting experiences, prospects, and prospective plans for GHG reduction via sustainable aviation fuels.  

---
JUNE, 2021 UPDATE:
Prospectus for Renewable Diesel 2030 & SAF 2030, Vol 2 now available in PDF format here (June, 2021)
sample forecast from the study:
---
Original Articles:
Next Generation Biodiesel Feedstocks are Winning in Low Carbon Fuel Markets
Renewable Diesel 2030 article in the Biofuels Digest: 
Renewable Diesel is a Game Changer for Sustainable Aviation and Low Carbon Fuel Markets in the U.S., Canada, Europe and Southeast Asia
Renewable Diesel 2030 article and excerpt featured in Advanced Biofuels USA:
Emerging Markets Publishes Renewable Diesel 2030 report (July, 2020)
Diesel Decarbonization Brings Transformative Opportunities for Next-Generation Biodiesel Feedstocks
---
Presentations:
Global Drop-In Fuels Opportunities and Outlook
In 2018, Emerging Markets Online provided a detailed presentation titled Global Drop-In Fuels Production Trends and Forecasts to 2020 at the Advanced Biofuels Leadership Conference in Washington, DC,
Advanced Bioeconomy Trends:
In October, 2017 Emerging Markets Online's CEO chaired a panel on BioFrontiers at the  ABLC NEXT Conferencein San Francisco, California featuring representatives from the The U.S. Department of Energy's National Renewable Energy Laboratory, the U.S. Department of Agriculture,  Synvitrobio and Manta Biofuels.
Bio-Based Plastics:
in 2017 Emerging Markets Online  delivered a presentation titled An Introduction to Emerging Market Opportunities in Bio-Based Plastics and Plant Bottles via webinar on the March Madness series by Biofuels Digest. 
Emerging Markets Online in Biofuels Digest's Top 11 Hottest:
In 2017, Emerging Markets Online was featured Biofuels Digest's The 11 Hottest Issues in the Biobased World, Your Picks, Top Experts, On-Demand
---
2007-2018 Archives:
Selected Articles, Interviews and Analysis